With her passion for makeup and skincare, Madhu has captured the hearts of many in the beauty community. Her journey began when she discovered her love for experimenting with different makeup looks and exploring the skincare world.
Her dedication to her craft is evident in her meticulous attention to detail and constant pursuit of knowledge about the latest beauty trends and techniques. She has spent countless hours perfecting her skills and staying up to date with the ever-evolving world of beauty.
What sets Madhu apart is her unique approach to makeup and skincare. She believes that beauty should be inclusive and that everyone deserves to feel confident and empowered in their skin. With this mindset, Madhu showcases stunning makeup looks and emphasizes the importance of self-care and embracing one's natural beauty.
Achievements
Before talking about her achievements, a few know that she is a legal analyst at a research firm after completing her BBA LLB from KIIT University. With more than 26K followers, she has worked with various luxurious brands, including NYKAA, Purplle, Lakmé , Mac Cosmetics, HYPD, Ponds, Kay Beauty and many more. She has also won the Instagram BOI winner and was rewarded with 25k for winning the BOI reel contest.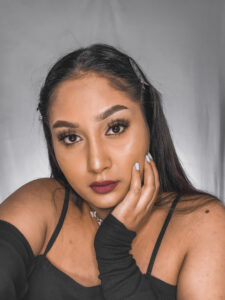 Recently at Young India Face, we decided to have a conversation with her and know her mantra for success. Odisha and Young India Face is always proud of this young lady for her positive influence on people, and we always encouraged women influencers to move forward in our state Odisha. Let's have a look what is her views:
1. How did you first get started as an influencer? What motivated you to pursue this career path?
It started as a hobby as I loved makeup when I was just a teenager, one day posted a makeup look recreating one of Deepika Padukone's makeup, and the picture got 500+ likes and so much appreciation so I thought let's post more I've been doing it since 2017
2. Could you share some of the biggest challenges you faced during your journey as an influencer? How did you overcome them?
I think being recognised and numbers ( followers count and engagement). It used to affect me a lot, but now I always look back and see why I started this page, and it's all because of my love for makeup and how creative I can be for my mental sanity.
3. What strategies do you use to engage and connect with your audience? How do you maintain their interest and loyalty?
I always choose content according to my audience; every month, I do a Q&A SESSION on my story to know what my audience wants to see on my page, and I make content accordingly. Always engage with their DM and comments.
4. Can you share a memorable experience or campaign you've worked on with a brand? What made it successful or rewarding for you?
Working with MAC cosmetics was my dream as their foundation was my first high-end purchase. I worked with them on a Diwali makeup kit; the video was in ODIA, and I felt proud to represent my mother tongue on their page. It was a huge milestone for me.
View this post on Instagram
5. How do you approach brand collaborations and partnerships? What factors do you consider before working with a brand?
I have never approached any brand. They have approached me via emails or DMs. I always go for the brands whose ideas and concepts mesmerise me as I'm representing their brand to my audience so my audience should resonate to their products.
6. Looking ahead, what are your goals and aspirations as an influencer? Are there any new projects or initiatives you're excited about?
I aim to continue to put out quality content that my followers will appreciate and engage with. I'm constantly learning new ways to increase engagement on my posts and make my videos even more creative and interesting for everyone. I love collaborating with other influencers, too, so I'm always looking for opportunities to do this.
ALSO  READ:
Unveiling the Charm of Odisha's Beauty and Fashion Influencer- Prajyoti Mishra
Other Articles