Meet the dynamic and visionary entrepreneur from Odisha- Sourabh Khandelwal, who has carved a niche for himself in the startup ecosystem. As a serial entrepreneur, marketing wizard, and startup mentor, he has transformed the business landscape of Odisha with his innovative ventures and strategic expertise. Notably, he is the esteemed founder of Dahibara Express, a pioneering food brand that has gained immense popularity in the region.
Entrepreneurial Journey:
Driven by a relentless passion for entrepreneurship, he embarked on his journey with a clear vision to revolutionize the food industry. With an astute understanding of consumer preferences and a knack for identifying untapped opportunities, he has successfully launched and scaled multiple ventures.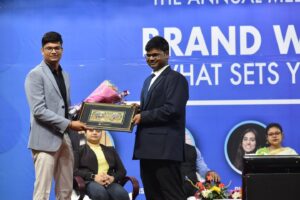 One of his notable strengths lies in his marketing wizardry. He possesses an exceptional ability to create compelling brand narratives, develop effective marketing strategies, and captivate the target audience. Through his creative campaigns and innovative promotional techniques, he has catapulted his ventures to great heights and garnered a loyal customer base.
Startup Mentorship:
Recognizing the importance of sharing knowledge and nurturing aspiring entrepreneurs, he has become a revered mentor in the startup ecosystem. He actively engages with budding entrepreneurs, offering them guidance, insights, and strategic advice. His mentorship programs and workshops have empowered numerous individuals to realize their entrepreneurial dreams and build successful businesses.
Founder of Dahibara Express:
Among his notable ventures, Dahibara Express stands out as a testament to his entrepreneurial acumen. Dahibara Express is a unique food brand that specializes in the traditional Odia delicacy of "dahibara." With its innovative approach to quality, taste, and customer experience, Dahibara Express has become a household name in Odisha. The brand's commitment to authenticity, hygiene, and exceptional service has garnered a loyal customer base and numerous accolades.
In the realm of entrepreneurship, this serial entrepreneur, marketing wizard, and startup mentor from Odisha has left an indelible mark. His visionary leadership, marketing expertise, and commitment to fostering a thriving startup ecosystem have made him a force to be reckoned with. As the founder of Dahibara Express, he continues to redefine the food industry while inspiring others to embark on their entrepreneurial journeys.
Other Articles