Stallan Nayak: Odisha boasts a charismatic and talented comedy influencer named Stallan Nayak, who has captured the hearts of audiences with his wit and humor. He is known for his urban comedy, which was never started in Odisha. He has become a prominent figure in the comedy scene of Odisha, spreading joy and cheer through his entertaining content and captivating performances.His journey into comedy began with small sketches and stand-up performances at local events and cultural gatherings. Through his unique style and sharp comedic timing, he quickly gained recognition and an ever-growing fan base
Riten pattnaik: Riten Pattnaik is a native of Sambalpur, a city in the Indian state of Odisha. He grew up in the village of Mahakud and decided to pursue stand-up comedy as a profession, which was a risky move for someone coming from a small Odia village. Riten performs in the local language, showcasing his humor to the community around him. Apart from his passion for comedy, Riten is also a graphic designer, balancing his professional commitments with his comedy performances.
Despite the challenges, Riten has a strong belief in himself and his abilities, which he hopes will fulfill his parents' expectations. He aims to work persistently and with perseverance to reach his goals and make his parents proud. Riten's story is an inspiration for many who want to follow their dreams despite the odds.
Sarthak Bharadwaj: One of the emerging talents in the field of comedy, performance, creation, and voice artistry from Bhawanipatna, Odisha, is Sarthak Bharadwaj. Known for his unique blend of humour and creativity, he has been making waves in the entertainment industry with his exceptional skills and performances.
Sarthak hails from Bhawanipatna, a culturally rich region in Odisha, India. He has gained popularity for his comedic timing, wit, and ability to connect with the audience through his performances. With a natural knack for storytelling and a keen observation of everyday life, he brings a refreshing and relatable perspective to their comedy.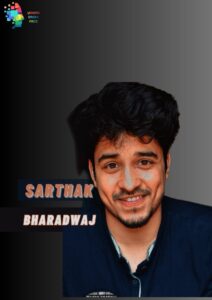 Subhajit Dash: Meet Subhajit Dash, a dynamic and charismatic individual who has brought a fresh perspective to the comedy scene in Odisha. His journey began on various social media platforms, where he showcased his knack for delivering satirical videos and entertaining parodies. His ability to combine observational humor with a deep understanding of local culture, language, and current affairs sets him apart.Apart from his comedic prowess, Subhajit is also an exceptional dancer. His passion for dance shines through in his videos, where he incorporates lively choreography and energetic performances. Whether it's grooving to popular Bollywood tunes or showcasing his skills in freestyle, his dance moves add an extra layer of entertainment to his content.
Barsha Mishra: Barsha's journey as a comedy content creator began on social media platforms like YouTube and Instagram, where she started posting short skits, parodies, and hilarious videos. Her ability to effortlessly blend comedy with social commentary has helped her attract a significant following and establish a strong presence in the digital entertainment space.As an emerging female comedy content creator from Odisha, Barsha Mishra is carving a niche for herself in the entertainment industry, inspiring others and making people laugh along the way. With her infectious energy and undeniable talent, she is undoubtedly a name to watch out for in the world of comedy.
Other Articles