One of the emerging beauty and fashion creators from Jajpur, Odisha, is Subhashree. Subhashree, a talented and passionate individual, has made a name for herself in the beauty and fashion industry through her innovative ideas and creativity.
View this post on Instagram
Subhashree, known as Jerry, hails from Jajpur, a small town in Odisha, India. Since childhood, she has been deeply fascinated by beauty and fashion. Growing up, she often experimented with different styles and trends, constantly seeking ways to express herself through her unique style.
After completing her education, she decided to pursue her passion professionally. She started by creating her own beauty and fashion blog, sharing her thoughts, ideas, and fashion tips with her growing audience. Her engaging content and relatable approach quickly garnered attention and a loyal following.
Her distinctive style and ability to stay ahead of trends soon caught the eye of renowned beauty and fashion brands. She began collaborating with various companies, featuring their products in her blog posts and videos. Her honest reviews and genuine recommendations earned her credibility and trust among her followers.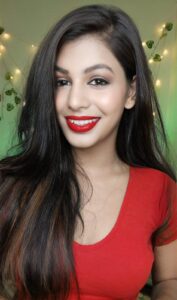 As her popularity soared, Jerry expanded her presence on social media platforms like Instagram and YouTube. She started sharing makeup tutorials, skincare routines, and outfit inspirations, which resonated with her audience, particularly young women seeking guidance in the world of beauty and fashion.
Her success as a beauty and fashion creator has allowed her to collaborate with prominent designers, photographers, and makeup artists from the industry. She has been invited to fashion events and shows, where she showcases her style and provides insights and coverage of the latest trends.
Recently at Young India Face, we decided to have a conversation with her and know her mantra for success. Odisha and Young India Face is always proud of this young lady for her positive influence on people, and we always encourage women influencers to move forward in our state Odisha. Let's have a look what is her views:
1. How did you first get started as an influencer? What motivated you to pursue this career path?
First, I started 2020 my Influencer journey as a nano-micro makeup beauty influencer. Gradually I started working on my content; meanwhile, the brand's agency kept approaching. I have worked with some of the well-known brands. I love trying new products and brands each month for my Instagram audience, and they appreciate my content and genuine reviews for brands. That's how I get motivated to pursue my Influencer journey.
2. What niche or topics do you primarily focus on as an influencer, and why did you choose that area?
My primary niche is makeup because I love doing I love creating new looks. Also I love experimenting with new makeup products. Makeup is my hobby. Whenever I feel depressed or anxious, I do some makeup that makes me more relaxed and focused.
3. Could you share some of the biggest challenges you faced as an influencer? How did you overcome them?
In the initial years of my journey, I faced many makeup-related content problems, including background setup, light setup, and transition editing-related issues. For such issues, I researched background setup transition editing and all of the other stuff on YouTube and Google, and it worked out.
4. What strategies do you use to engage and connect with your audience? How do you maintain their interest and loyalty?
I interact with my audience followers through dm's, which I receive. I do text them back with their product queries or anything related to the same also, I do ask them for sessions in my stories where they can interact with me by writing the question and asking me what they want to know about me. Also, I do weekly live sessions where they can interact with me through video chat. The week before, I strategies for my content, what to put, and when; I also check my account insights to see my content and account reach before planning my upcoming collaboration-related content.
5. What advice would you give to aspiring influencers who are just starting their journey?
I would recommend following some well-known creators in this respective niche so new beginners can get some ideas related to content video script writing by witnessing other professional influences and creators. Suppose new influencers face any difficulties related to the content set-up, lighting equipment etc.. In that case, they should research using Google YouTube because this will help them know solutions to the issues. also, they would pick some new ideas and some new knowledge.
ALSO READ: https://youngindiaface.in/unveiling-the-stylish-journey-meet-rourkelas-emerging-male-fashion-and-lifestyle-influencer-aniket/
Other Articles