One of the most loved couples of Bollywood- Alia Bhatt and Ranbir Kapoor are expecting their first child. Congratulation and best wishes for them from us. The actress on Monday shared the happy news of her pregnancy on Instagram. She captioned, "Our baby ….. coming soon". Among the many heartwarming reactions, Alia's father Mahesh Bhatt expressed his happiness over the news. In the first pic, she can be seen happily staring at a sonography screen with a big red emoji on the screen with Ranbir by her side. Her second photo featured two lions and a lion cub.
Fans flooded the photos with hearts and congratulations. Mahesh Bhatt reacted to the announcement by saying, "Ah, my baby is going to have a baby! I am so happy for Ranbir and Alia. May our 'tribe' increase." He added, And now I have to prepare for the most important role of my life: The role of a Grandfather. This is going to be a grand debut."
Riddhima shared on Instagram, "My babies are having a baby…"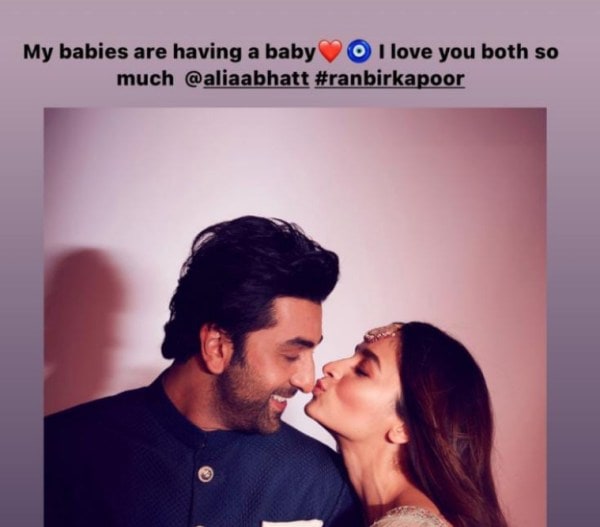 The couple tied the knot in a private ceremony at their Bandra home on April 14, surrounded by their family and closest friends.
On his life after marriage, Ranbir said, "I used to say in films that 'shaadi is like dal chaawal till you die and life mein thoda tangdi kebab, hakka noodles hona chahiye (referring to his famous dialouge in Yeh Jawaani Hai Deewani)… but boss, zindagi ke tajurbe ke baad I would say dal chaawal he best hai. Alia mere dal chaawal mein tadka hai, achaar hai, pyaaz hai, sab kuch hai. I couldn't have asked for a better partner."
Other Articles