The region of Odisha is a captivating blend of ancient customs and contemporary culture, and it's there that a brilliant talent has emerged. This individual has taken the online world by storm with their irresistible charisma, flawless fashion sense, and unwavering dedication to the beauty industry..Let us embark on a mesmerizing journey, delving into the inspiring story of this extraordinary woman who is redefining the landscape of fashion and beauty in Odisha and beyond- Shweta Suman.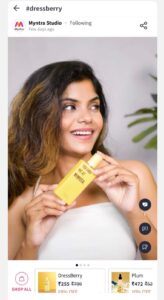 Born with an innate flair for creativity and an insatiable curiosity for the ever-evolving world of fashion and beauty, our leading lady discovered her calling amidst Odisha's vibrant colors and rich cultural tapestry. With a heart full of dreams and an unyielding determination, she embraced the digital sphere as her canvas, breathing life into her aspirations and capturing the hearts of countless admirers along the way.
Her journey through the realm of beauty is a testament to her relentless pursuit of excellence. Armed with her artistic brushstrokes and an innate understanding of colors, she weaves magic with each stroke, transforming faces into living canvases that tell tales of confidence, self-love, and empowerment. From delicate brushwork to bold, transformative creations, her artistry celebrates the diversity of beauty and amplifies the unique features that make each person extraordinary.
Achievements
With more than 10k followers, she has collaborated with more than 150 luxury brands, including Myntra, Hidesign, Reliance Trends, Nykd by Nykaa, Faballey, Pepperfry.com, Bewakoof, Lenskart, Westside, Indya, etc.
Recently at Young India Face, we decided to have a conversation with her and know her mantra for success. Odisha and Young India Face are always proud of this young lady for her positive influence on people, and we always encourage women influencers to move forward in our state Odisha.
Let's have a look what is her views:
How did you first get started as an influencer? What motivated you to pursue this career path?
I became a fashion influencer by sharing my style on social media, which gradually gained attention. My mom clicks my pictures and videos. And I love experimenting with different styles and outfits. That's what motivated me.
Could you share some of the biggest challenges you faced as an influencer? How did you overcome them?
Well, self-acceptance was the biggest challenge for me. Being a dusky girl, I felt insecure about my skin tone. But later, I realized feeling embracing my own skin tone and being confident in it is the best kind of self-love.
What strategies do you use to engage and connect with your audience? How do you maintain their interest and loyalty?
 Consistency
Following the trends ( I always try to give my own touch to it)
I don't promote things that I don't use like
Can you share a memorable experience or campaign you've worked on with a brand? What made it successful or rewarding for you?
Working with brands like Myntra Studio, Hidesign, Nykd by Nykaa, Reliance Trends, and lifestyle stores was amazing.
What advice would you give to aspiring influencers who are just starting their journey?
Have patience! It takes time; sometimes, the algorithm will make you feel worse, but that should not affect your creativity. Believe it or not, there's always someone getting inspired by you! 
View this post on Instagram
Read More:
Bringing the Odia humour to life, one laugh at a time- Swapnil Nahak
Other Articles