Rashmika Mandanna, a Telugu actress, finally broke her silence and addressed how she felt sad about her deep fake videos, which were all over the internet. The video showed a woman entering the elevator wearing a short black dress. Mr. Amitabh Bachhan also reacted to this. Legal action is taken on these deep fake videos. Naga Chaitanya also shared his thoughts about Rashmika's tweets. Here is the Twitter from Rashmika Mandanna: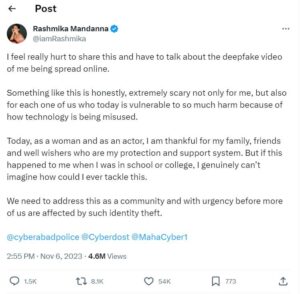 Decoding of Deep Fake Videos
The term "DeepFake" is a combination of two words, i.e. "Deep Learning" + "Fake". You can create fake videos of anyone with the help of Deep Learning. You can literally swap the face. For example, if you want to use someone's face (let's say the one you don't like much, enemy), you can replace someone's face with their face. It is creepy because you can literally make any video and post it on the internet.
Some hackers or bad people who want chaos across the world did the same thing. You must see the video of Russia's president "Putin" saying about "Donald Trump" a "deep shit". But, it is not real. People don't think much while they are scrolling on the internet. It needs to be addressed.
How Do You Know What is Fake or not?
Check their body shapes, their eye movements, lighting, and audio quality.
Reverse the image to know if they are real or not.
There are several deep fake technologies you can use to detect the fake one.
Wrap-Up
AI and Deep Learning are essentials nowadays in our world, but they are scary as well. If we are careful not to use them, then it will be a complete disaster. Terrorists can use them to distract the government and the public. Enemies can alter the videos of any government personnel to fool the public so that in the next election, they will win.
Watch this news to know more: Rashmika Mandanna on her Deep Fake Videos
Other Articles