Allow me to introduce you to an emerging stand-up comedian from Odisha Amrit who has gained popularity for his unique approach to comedy.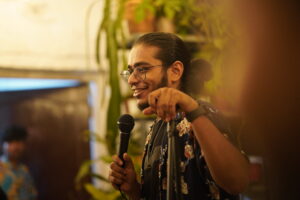 Amrit hails from a small town in Odisha and discovered his knack for making people laugh at a very young age. However, he took an unconventional path to showcase his talent by performing stand-up comedy exclusively for morning walkers on footpaths and at chai tapris (tea stalls).
Known for his quick wit and ability to connect with his audience, Amrit found his niche in entertaining people during their daily routines.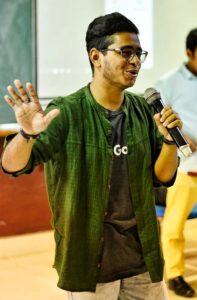 Amrit's comedy revolves around relatable everyday situations, poking fun at the idiosyncrasies of daily life, and presenting hilarious observations about the world around us. From humorous anecdotes about the struggles of public transportation to satirical commentary on social media trends, Amrit's performances strike a chord with his audience.
What sets Amrit apart is his ability to adapt and improvise on the spot. He seamlessly weaves in local references, cultural quirks, and current affairs, tailoring his jokes to suit the tastes of the diverse crowd that gathers around him. He engages with his listeners, incorporating their responses and feedback into his act, making each show a unique and interactive experience.
His comedy not only brings joy and laughter to the people of Odisha but also serves as a reminder to find humor in the little things and embrace positivity amidst life's challenges. His popularity has been steadily growing, with videos of his footpath performances gaining traction on social media platforms and leading to invitations to perform at local events and cultural festivals.
Through his comedy, he has touched the lives of countless individuals, leaving them with a smile on their faces as they continue their day. As he continues to evolve and reach new heights, Amrit represents the vibrant and emerging comedy scene in Odisha, and his future in the world of comedy looks promising.
Other Articles