In the vibrant culinary landscape of Odisha, a dynamic duo has emerged as the new stars of the food blogging scene. Soumi and Pratyush, the creative minds behind an exciting and popular food blog, have been making waves with their unique approach to showcasing the rich gastronomic heritage of Odisha. With their insightful reviews, captivating storytelling, and stunning food photography, they have garnered a dedicated following and have become go-to influencers for food enthusiasts across the region.
As Odisha's emerging food bloggers, Soumi and Pratyush have cultivated a distinct niche by focusing on the traditional flavors and lesser-known delicacies of their home state. They have made it their mission to unearth the hidden gems of Odia cuisine and present them to a wider audience, both within and outside the state. Their dedication to promoting local ingredients, culinary traditions, and the rich cultural heritage of Odisha shines through in their engaging content.
What sets Soumi and Pratyush apart is their unwavering passion for food and their commitment to authenticity. Their blog features a diverse range of food experiences, from street food joints to fine dining establishments, allowing their readers to embark on a gastronomic journey across Odisha.
The blog's success can also be attributed to the seamless collaboration between Soumi and Pratyush. Soumi, known for her impeccable food styling and photography skills, captures the essence of each dish through her lens, ensuring that every image evokes a mouthwatering response.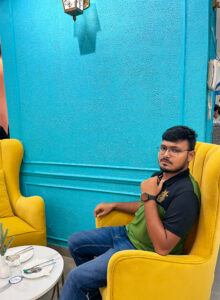 With their engaging content, vibrant personalities, and dedication Soumi and Pratyush have gained recognition not only within the food blogging community but also among local food establishments. They have become trusted influencers for Odisha's thriving food scene, and their recommendations hold significant weight among their followers.
With more than 62K followers, their journey is quite inspiring for many youngsters. They collaborated with various brands including Starbucks, KFC, Pizza Hut, Wow Momos, Biggies burgerfelicitated by odisha tourism official twice and by "parichaya: odisha's biggest content creator summit".
Other Articles