Allow me to introduce you to a rising fashion and travel female influencer from Odisha,Meet Ankita Mohanty, a young and dynamic individual who has captivated audiences with her unique sense of style and wanderlust spirit.
Ankita was born and raised in the culturally rich state of Cuttack, Odisha. From an early age, she developed a keen interest in fashion, often experimenting with different styles and trends. With a natural flair for combining colors and textures, she quickly gained recognition for her impeccable fashion choices.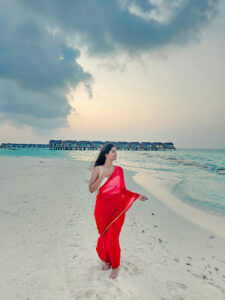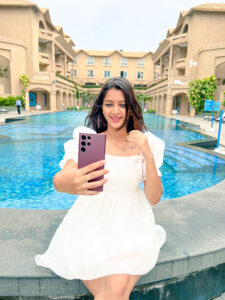 Apart from her love for fashion, Ankita is an avid traveler. She explores the diverse landscapes and hidden gems of Odisha and all over India capturing breathtaking moments and sharing them with her followers. Her travel content is not only visually stunning but also informative, providing valuable insights into the lesser-known destinations and cultural experiences within Odisha.
However, Ankita love for fashion goes beyond just personal style. She believes that fashion is a form of self-expression and empowerment. Through her social media platforms, which boast a significant following, she inspires her audience with her bold fashion statements and encourages them to embrace their unique personalities through their clothing choices.
What sets Ankita apart as a fashion influencer is her fusion of traditional Odia fashion elements with contemporary trends. She often incorporates Odisha's exquisite handloom textiles, such as Sambalpuri sarees and Ikat prints, into her modern ensembles. By doing so, she not only promotes the rich cultural heritage of Odisha but also showcases how traditional clothing can seamlessly blend with contemporary fashion.
As an emerging female influencer, Ankita is committed to promoting sustainable fashion practices and responsible tourism. She actively supports local artisans and brands, advocating for ethical fashion choices. Additionally, she encourages her followers to travel responsibly, respecting the environment and local communities.
Achievements
With more than 39K followers, Ankita's journey is quite inspiring for every individual. Apart from creating travel and fashion blogs Ankita is working as a software engineer at Mindfire solution. She has won the Instagram BOI Reels contest twice and received goodies from Instagram and her content has been featured on various brand pages. Ankita has also Worked as Galaxy Creator with Samsung and Stories for Google for Creators. She has collaborated with various luxurious brands including Lifestyle, Reliance, Only, VeroModa, Turtle,Garnier, KWC, Lawrence & Mayo, Aashirvaad
Lotus Eco Resort Konark. The biggest collaboration of her careeer is when she was invited to the launch of Samsung Flip and Fold Series in Bangalore last year.
Other Articles